You know when you're watching a hockey game and you get that feeling that something is about to happen or that something just happened. Or maybe you were looking at your hot dog and you hear Cangy say something like "(INSERT NAME HERE) WITH THE SHOT". These are the exciting moments that keep you invested in a low-scoring game like hockey. They are colloquially referred to as scoring chances and until now they have been frequently referred to but never compiled in any official format. A.C. Thomas and his colleagues over at War on Ice have now formalized this event into a set of rules that is able to be compiled using NHL play-by-play data.
Scoring Chance Description
The War on Ice Blog has an entry posted on their full definition of a scoring chance. It's concise and decently easy to understand but I'll supplement it here.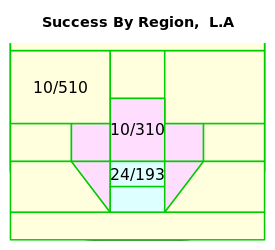 Danger Zones
This is an example of the "Danger Zones" for the Kings taken from war on ice. The green section his high-danger and it is the square right in front of the goal. The red section is mid-danger and it goes to the faceoff circle centers up to the top of the circles and then a bit higher in the middle. Some of you may recognize this as a slightly adjusted version of the "home-plate zone." And the yellow are low danger shots.
New Terms
Rebound - Any shot within 3 seconds of a Corsi event (Shot on goal, Blocked Shot, or Missed Shot)
Rush Shot - Any shot within 4 seconds of an event (shot, miss, block, hit) in the shooting teams neutral or offensive zone.
Definition of Scoring Chance
A scoring chance differs depending on what zone you are in. The table below illustrates the definition of scoring chance in each zone.
My Critiques
Med / High Distinction
The difference between a scoring chance in med and high scoring chances is something that I personally don't find much merit in. The logic is that blocked shots up close are more likely to have been "wide open nets", but this is purely conjecture and not something that is now or feasibly ever will be recorded. It's a minor alteration, but had I been charged with defining a scoring chance I may have ignored that part.
If is Corsi Sh% in the high danger zone is roughly equivalent to Fenwick Sh% in the med danger zone I see a little more reference. Which brings me to my next critique.
Lack of Statistical Support for Difference in Danger Zones or Shot Percentage Benchmarks
There is obviously a lot of variation in shooting percentages in these 3 zones. I'm curious if these scoring chances were conceived with the idea that all scoring chances are created equal. For instance are unblocked rebounds and rush shots in the low danger zone roughly similar shooting percentages to the shooting percentage of all attempts in the high danger zone? If there was an accompanying aspect of the definition that attributed a benchmark for what shooting percentage scoring chances should all tend towards then I'd feel more comfortable in the unilateral terminology.
Devils Scoring Chances
Now for why this applies to us. Below is a table of the Devils Scoring Chance statistics. For beginners just take a look at the following basic columns.
SCF = Scoring Chances For
SCA = Scoring Chances Against
iCF = Individual Scoring Chances (You have to scroll right to see this one)
Notes about Devils Scoring Chance Statistics
Reid Boucher

leads the team with 10.6 individual scoring chances per 60 minutes. Obviously not a big enough sample size but considering his resurgence in Albany, (goals in 5 straight, 9 points in last 9 games) it might be worth it to see what he can do with some extended time.


Our Leader in Relative Scoring Chance Ratio (SC%Rel) is

Marek Zidlicky

by a very healthy margin. He is 64th in the NHL.


In individual scoring chances it is Jagr, Ryder, and everyone else. Those 2 skaters have over 70 chances and no one else has 50. 



Seth Helgeson

is 4th in Scoring Chance differential which is particularly impressive considering he has the 3rd lowest offensive start percentage on the team.



Scott Gomez

is 3rd from the top in SC for but last in SC against. That sounds right actually.



Adam Henrique

is behind only Scott Gomez in SC against. From someone who is one of our top penalty killers, and most prolific shot blocking forward, and generally considered one of our best defensive forwards, this is surprising and concerning. Over the last 3 years, he is 21st out of 31 qualified forwards on the team. So this is not a new problem


Not listed here but still helpful is the scoring chances on the Power Play in which Elias is at the top of most categories, and scoring chances on the Penalty Kill in which Henrique redeems himself and Merrill is the best skater while Larsson and Greene are surpsingly low.


Not listed here but interesting is the Even Strength Scoring Chances in Close-game situations in which Adam Henrique and

Michael Ryder

are in the top 5 with Jagr, Zid, and Ruutu. This may give some explanation for how the pairing seems to succeed despite their notoriously poor Corsi.
Summary
This new stat helps to give an extra weight to add to a player's value. Corsi is important but not the whole story and the idea of scoring chances is very well-intended. It is far from perfect especially in the specifics of its definition. Having seen the Play-by-play data that War on Ice uses, I understand the convenience in their definition, but time will tell if scoring chances can be successfully tracked using this method or if a Ryan Stimson-esque effort of directly tracking the data might be needed.
For the Devils, there are few surprises. Ruutu and Gio are high which may not be in keeping with their reputation, but is not surprising to those who have watched games this year. Andy Greene is surprisingly low and Helgeson is surprisingly high.
Your Thoughts
What do you think of the new statistic? Are you thinking it's about time someone has recorded this information? Are you not happy with the way it is compiled? Are the Devil's stats surprising to you? Does this change your opinion of any players? Leave thoughts in the comments below.
What I'm Working On
In the near future expect an NHL-wide investigation into distance-based shot quality. I'm going to be using the NHL play-by-play data that A.C. Thomas from War-on-ice.com has generously helped me compile to look into an "Expected Goals" statistic that used to be used at Progressivehockey.com. This is in its infancy, but as I get more comfortable in the coding I will begin to adjust the statistic for x-y coordinates, shot type, situation (only ES right now), and score. If you have any advice leave that in the comments as well or tweet me @CJTDevil. Happy New Year!